Communication solutions to match every industry
We provide wireless communication solutions based on stand-out technological capabilities, constant technical innovation, effective systems design and engineering, and user-friendly functionality.
Improve collaboration and customer experience with suitable communication solutions for your team on location or remotely. Our products are user-friendly and scalable to your wishes and needs. Thanks to the open communication system, you are assured of safe and simple communication without noise on the line.
Avoid hitches
Reduce background noise
Improve collaboration, productivity and job satisfaction
Increase employee and customer satisfaction
United Headsets
United Headsets is a global tech company that innovates and delivers comprehensive, scalable, user-friendly communication systems with multi-wireless connectivity, maximum coverage, and a cloud-based service platform for installation and (remote) management. In close partnership we offer our clients customized, turn-key, end-to-end solutions with full product lifecycle management.
United Headsets is a dependable partner with over 30 years of knowledge, experience and specialization in communication solutions. With our hands-on, forward-thinking vision and approach, we continuously bring new innovations that meet and/or exceed the market's needs and wishes.
Innovative, cost-effective, user-friendly all-in-one communication system

suitable for all work environments and styles; from offices to hybrid working, to call centers, healthcare facilities, schools, and even hotels, hospitality, and retail.

Fully modular and scalable with unlimited coverage and a secure, stable connection; delivers effective, reliable, high-quality wireless communication in any parts of a building, structure, or facility.

With multiple (wireless) connectivity; connectable through VoIP, mobile network, DECT, Wi-Fi, and Bluetooth™, compatible with all conceivable devices and with the capability for seamless switching between different channels and/or devices.

Fully sustainable with full product lifecycle management thanks to the solid designs, interchangeable batteries, our refurbishment policy and proper recycling.

Featuring a suite of user-friendly online tools with cost-effective services for the management, deployment, monitoring, location management, and tracking of wireless corporate installations of any scale.

Fully sustainable with full product lifecycle management thanks to the solid designs, interchangeable batteries, our refurbishment policy and proper recycling.
Personalisation
The United Headsets Max 40 USB and Max 75 Bluetooth can be personalized if desired, to match your corporate identity. This not only creates mutual uniformity and a team feeling, it is also a nice branding for your company.
The benefits of personalized headsets:
Onboarding, Team spirit & Practical

Branding for your company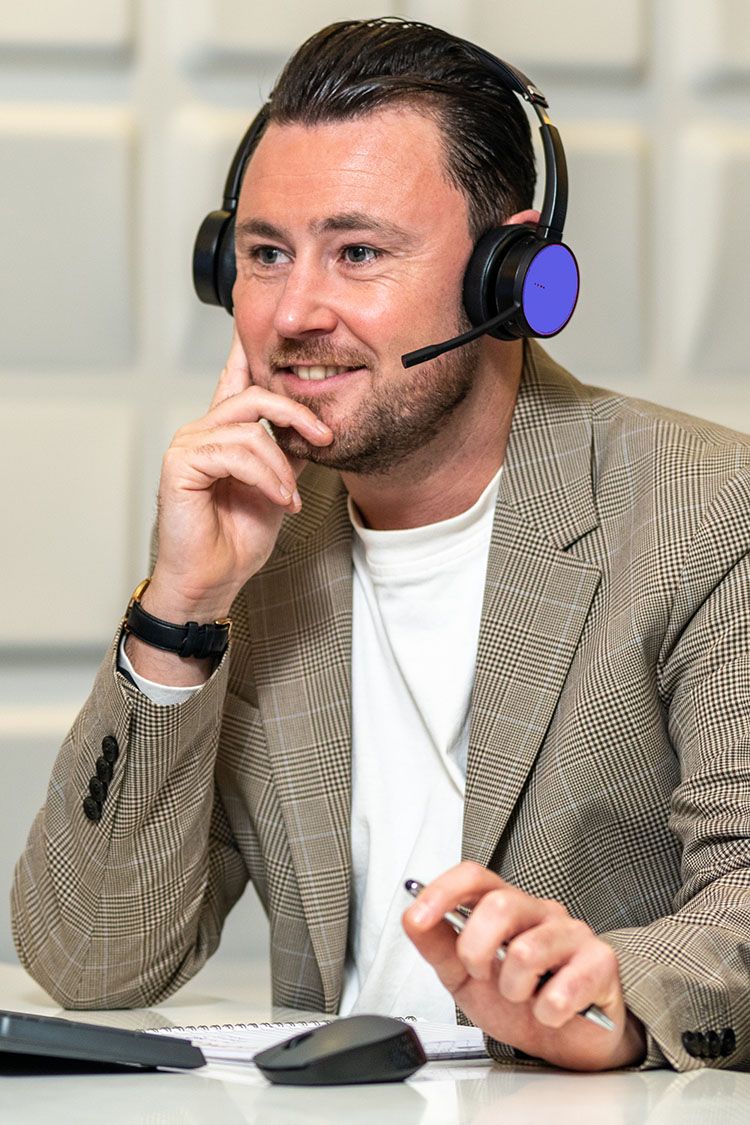 Supported with modern VoIP telephone system
3CX offers you a fully functional IP telephone exchange that offers you many advantages when it comes to serving your customers, both on the work floor and outside.
With one uniform system, your team can work efficiently anywhere and without additional costs. No need to purchase add-ons for mobile apps, live chat, business text messaging, and Facebook integration – everything is included in the monthly cost. Your team needs just one system to connect with colleagues and respond to customers via their preferred communication channel.
3CX grows with your business and remains cost-effective!
This open-platform IP telephone exchange is fully compatible with popular IP phones and SIP trunks. Choose hosted telephony or choose to install 3CX locally. Whichever option you choose, Lumidee will ensure that it meets your needs. Spend less time managing your telephone exchange and more time running your business.