Effective online tools for the management of wireless communication installations of any size
Our unique Cloud Services platform offers a suite of user-friendly online tools, equipped with services for the efficient management, deployment, monitoring, site administration, and tracking of all of your wireless installations, regardless of their scale.
Our platform is adaptable and can be tailored to align with your specific product portfolio, technical specifications, and brand identity. This customization empowers you to deliver a noticeably improved level of service to your customers.
Achieve Improved Outcomes and Enhanced Customer Satisfaction with less risk and less hassle
Cloud-based deployment tool helps you plan sites and configurations, prior to installation

Makes it easy to monitor installation sites and keep them updated with the latest software releases

Effective way to manage your customers, licenses, and sites

Diagnostic tools with customizable trigger events that help you improve customer service

Provisioning and remote management of devices

Easy tracking of handsets, Bluetooth™ devices, etc. for effective inventory management
BETTER SUPPORT – WITH LESS WORRIES
Our Cloud Services simplify the process of delivering improved and faster support by addressing the practical complexities associated with deploying and managing large-scale solutions.
SPECIALIZED MODULES – BUNDLED TOGETHER
The platform is constructed upon the aggregation of specialized modules within a user-friendly, cloud-based solution. The flexible licensing model further simplifies the process of choosing the precise options required for designing, deploying, and overseeing complete wireless communication systems.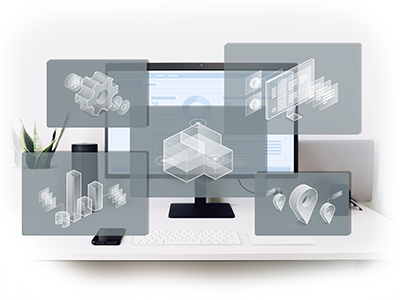 A ROBUST SUITE OF SPECIALIZED TOOLS THAT SEAMLESSLY INTEGRATE
Acquire a collection of specialized tools that seamlessly merge the administration of wireless base stations, location gateways, handsets, headsets, and repeaters into a unified cloud-based solution. This user-friendly system not only streamlines the process but also results in time and manpower savings, minimizing operational complexities. Ultimately, it guarantees you to receive top service and support.