The ideal communication tools for hotels
The use of DECT phones with any headsets in a hotel offers numerous benefits that can improve overall operational efficiency and guest satisfaction. In this text, we will discuss the key benefits of this technology in the hotel industry and how it can improve the guest experience.
Enhanced communications: DECT (Digital Enhanced Cordless Telecommunications) devices enable hotel employees to communicate with each other quickly and easily. This includes receptionists, cleaning staff, security and technical support. The use of headsets allows for hands-free communication, leaving employees free to perform other tasks while staying in touch with staff.
Faster response times: DECT phones allow hotel staff to respond immediately to guest requests and problems. This increases service efficiency and contributes to guest satisfaction, as they find that their needs are addressed quickly.
Customized hospitality: Headsets allow receptionists to communicate discreetly and efficiently with each other about guests' needs and preferences. This enables them to provide personalized services, such as preparing specific room amenities or arranging transportation, without making guests wait in the lobby.
Better security: In hotels, security is of great importance. DECT phones with headsets enable security personnel to respond quickly to emergencies or suspicious activity. This contributes to the safety of both guests and employees.
More efficient cleaning services: Cleaning staff can use headsets to communicate with front desk and maintenance staff. This provides streamlined coordination when cleaning and preparing rooms, making rooms available to new guests faster.
Less disruption for guests: Headsets allow employees to communicate discreetly with each other without loud phone calls in public areas. This creates a quiet and relaxed atmosphere in the hotel, improving the overall guest experience.
Cost savings: While the initial investment in DECT handsets and headsets may seem high, hotels can save costs in the long run. More efficient communications can result in fewer staff hours and better overall service quality, which in turn can lead to more repeat bookings and positive word-of-mouth.
Flexibility: DECT phones with headsets are portable and can be used anywhere in the hotel. This means employees can be reached anytime, anywhere, improving flexibility and mobility.
Training and development: Hotels can also use DECT systems for employee training and development. New employees can improve communication skills by listening to experienced colleagues via headsets and quickly become familiar with operational procedures.
In conclusion, DECT phones with headsets offer significant benefits to hotels. They improve communication, response times, hospitality, security, efficiency and guest satisfaction. Although the initial cost is a consideration, the long-term benefits can justify the investment. Hotels that invest in this technology can not only optimize their operational processes, but also provide an excellent guest experience, which is essential in the competitive hotel industry.
United Headsets
Optimize communication, collaboration and productivity
We offer various DECT base stations and repeaters for endless coverage within your hotel. Using our wireless DECT handsets (with optional headsets), you can be reached anywhere, anytime. Provide the check-in desk with professional wireless headsets that feature HD sound quality and Noise Cancelling microphone.
Check out our full range for the best hands-free experience, even in extremely noisy work environments.
DECT handsets to be reachable anywhere

DECT base stations & repeaters for endless coverage

Professional wireless headsets for reception

Superior noise cancellation, crystal clear calls and wearing comfort
Personalization
If desired, the United Headsets Max 40 and 75 can be personalized to match your corporate identity. This not only creates uniformity and a team spirit, it is also a nice calling card for your healthcare institution.
The benefits of personalized headsets:
Onboarding, Team Feeling & Practical

Business card for your company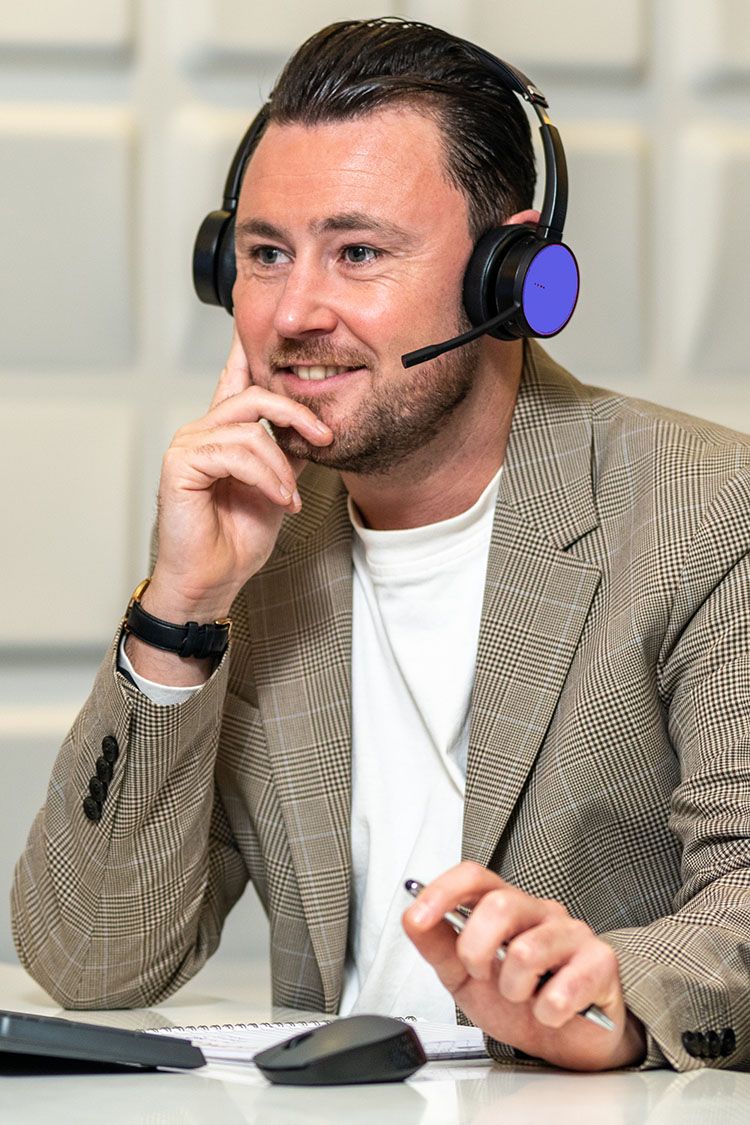 What do our customers say?
The use of DECT phones, with or without any headset, in a hotel offers numerous benefits that can improve overall operational efficiency and guest satisfaction. In this text, we will discuss the key benefits of this technology in the hotel industry and how it can improve the guest experience. United Headsets' DECT solutions not only provide wireless coverage and communication, it also offers infinite coverage and significant benefits to hotels. They improve communication, response times, hospitality, security, efficiency and guest satisfaction. While the initial cost is a consideration, the long-term benefits can justify the investment. Hotels that invest in [Read more...]