3CX open platform VoIP phone system
Do you want a modern phone system that allows you to make calls? Do you want remote meetings via web conferencing without apps? Do you want to speak to customers via live chat on your website? 
With 3CX's communication system you can do it all, and much more! And because 3CX allows you to choose a local installation on Windows, Linux or in the cloud, you have complete freedom of choice. Whatever you choose, you are assured of a modern, secure and user-friendly communication system with minimal management tasks.
Modern and user-friendly communication system
With 3CX, you have a fully functional IP PBX, with queues, integrated video calls, web conferencing and more. In addition, you can integrate live chat, Facebook and text messaging all in one system. All these features can be used anytime, anywhere via apps for mobile and browser. 
Plus, this open-platform IP PBX is fully compatible with popular IP phones and SIP trunks. 3CX grows with your business and remains cost-effective!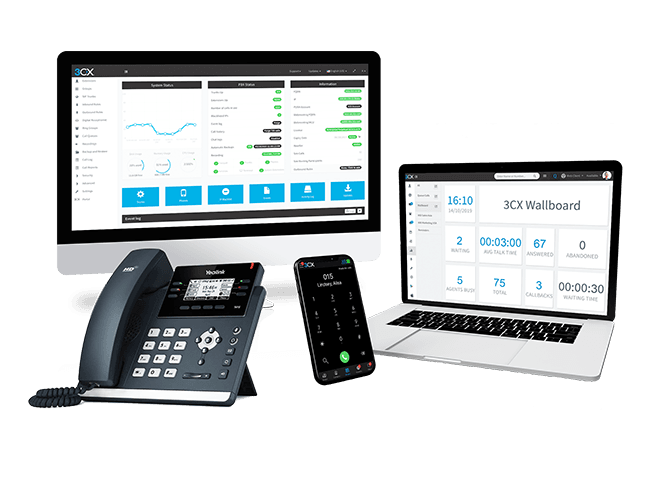 Telephone switchboard; reachable anytime, anywhere
Designed for flexible working

Installed in the cloud or locally 

Easy to install and manage
Video conferencing; simple without apps
Hassle-free video conferencing

Tools for presentation and remote assistance

Apps for conferencing via smartphone

Unlimited number of users
Live chat; for maximum conversion
Turn visitors into leads and sales 

From chat to phone or video call

Improve the customer experience
Total solutions with 3CX
3CX brings many possibilities and can be flawlessly integrated with all our retail and telecom solutions. Visit our retail page to find an overview of our complete solution for wireless, efficient workplace communications with endless coverage. Or then check out our total solutions for offices and contact centers.
Naturally, every project we take on is customized and we are therefore happy to provide you with a customized proposal. If you choose UH, we will also take care of the installation and management of your entire system. Feel free to contact us for an introduction.
United Headsets Retail Solutions
Wireless communication for your team on the floor. Secure, efficient, scalable and affordable.
We offer a fully wireless solution for your team's communication on and off the floor. This enables you to collaborate more efficiently, increase your sales and improve your customer service.
Telephony and Push-To-Talk communication in one
Fully wireless, no more hassle with cables
Virtually unlimited coverage
Communication takes place in a closed DECT system; safe and both literally and figuratively without noise on the line. Our United Headsets have HD sound quality and Noise Cancelling microphone.
United Headsets Telecom Solutions
Headsets for contact centers and offices. Professional, scalable, efficient and economical.
We offer several corded headsets designed for the professional and flexible (home) workplace. All headsets feature HD sound quality and Noise Cancelling microphone. The United Headsets Max series is also continuously evolving to keep meeting the demands of fast-growing contact and call centers, offices and home workplaces. For example, we also recently added a first wireless headset to our range.
Check out our full range for the best hands-free experience, even in extremely noisy work environments.
Interested and/or more information about 3CX?
We are of course happy to advise you personally about the possibilities of integrating 3CX as part of your communication solution. Please feel free to contact us for no obligation advice.